The Importance of Willingness in Overcoming Emotions
"If you want to get better, you have to find out what you're avoiding and what you're afraid of. You have to expose yourself to that voluntarily, and you have to let that change you. It's not a pleasant process. It's a voluntary confrontation of things that make up life's horrors" – Jordan Peterson
Is 2019 going to be another year where little changes? Are we going to play out the same cycles of stress and anxiety? How important is Willingness in overcoming negative emotions?
Stress, anxiety and negative emotions that affect performance. Unwillingness to accept these emotions lies at the root of avoidance. Avoiding the things that we need to do to move forward, avoiding stepping out of the comfort zone…
It feels counter-intuitive but 100% acceptance and a tweak in mindset can help stop us fighting these feelings. Relaxation, clearer focus and positivity can become the result and help us lead happier more fulfilling lives….
Easy choices hard life, hard choices easy life…as Jordan Peterson says above it is not easy or even pleasant but it will be worth it!
I set the question, but will you be willing, are you able to commit to feel 100% of your experience? Are you able to say 'yes' to being vulnerable and uncertain and change the beliefs that keep you stuck?
Lets make the difference – we can bury our head or move towards those Goals in 2018!
Click on the thumbnail below to see my latest video 'Go on…face the fears!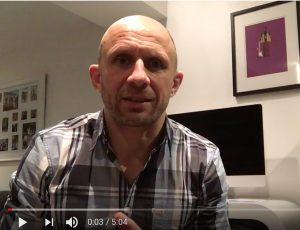 3rg work with people and organisations who are serious about performance. We offer practical, experienced based solutions to complex business challenges. Through our range of leadership courses, coaching programmes and workshops we help organisations build high performance, winning teams.